[In Stock] Chogokin Keycappies. And Rose gold prototype.💎
This post is English translation of "【販売中】超合金キーキャッピーと試作ローズゴールドキーキャッピー💎". Please be patient with my poor English.
---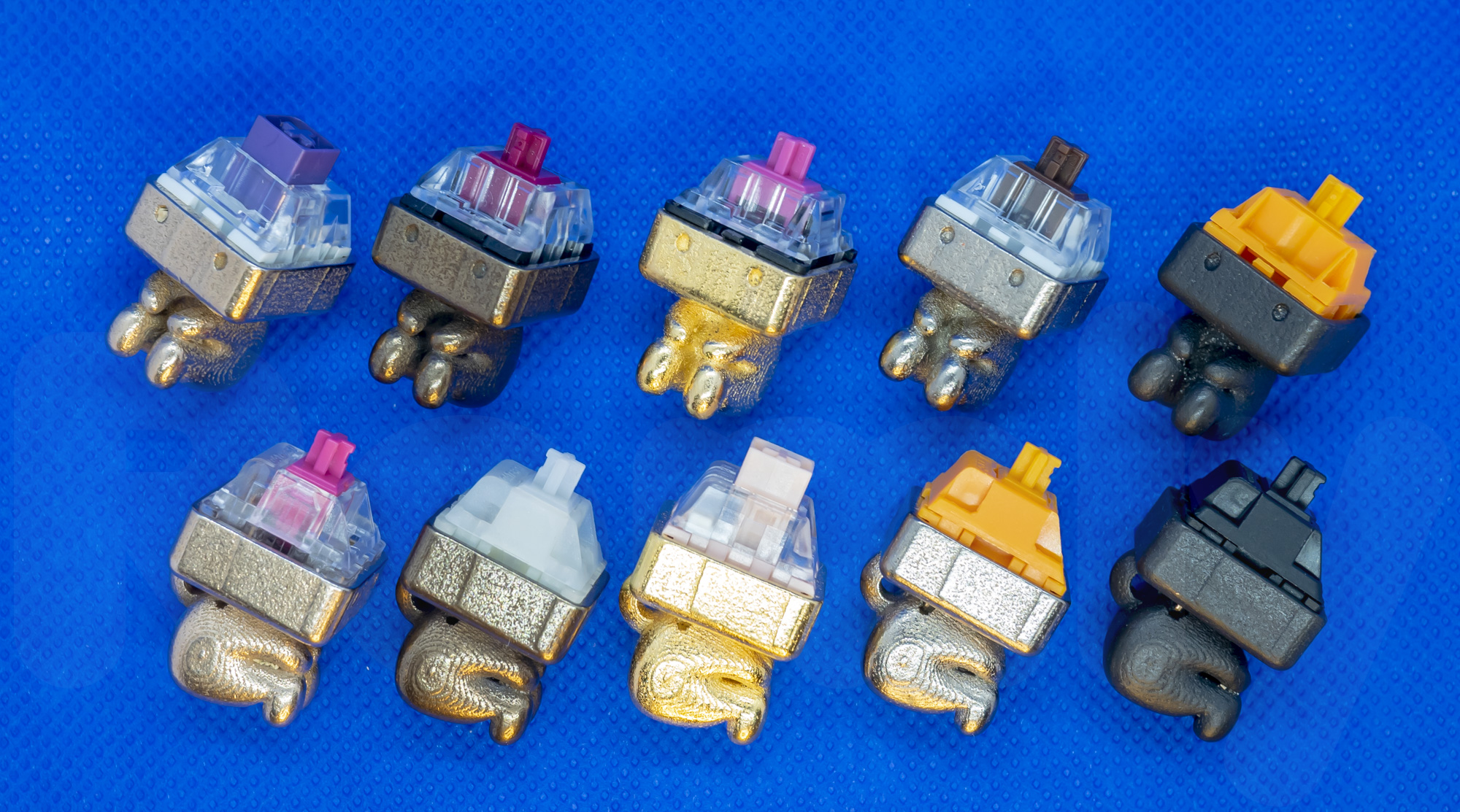 On Shapeways, I'm selling Chogokin Keycappies in addition to normal nylon Keycappies. Chogokin as known as Super Alloy, is a dream of Gundam boys, fully metaled figure toys. Thanks to 3D printing technology, some of the Keycappies -fairies of the keyboards- got this super cool iron steel bodies. They are made by real steel, still has capable of perfect fit to plastic Cherry MXs and other mechanical switches. Super DX Keycappies with massive feeling. I got 10 of them in order to sell them on winter Comiket. Please let me introduce them, comes in variety of colors. In the end of the post, I'll introduce "Lady Rosegold" who is prototype of fine luxury Keycappie!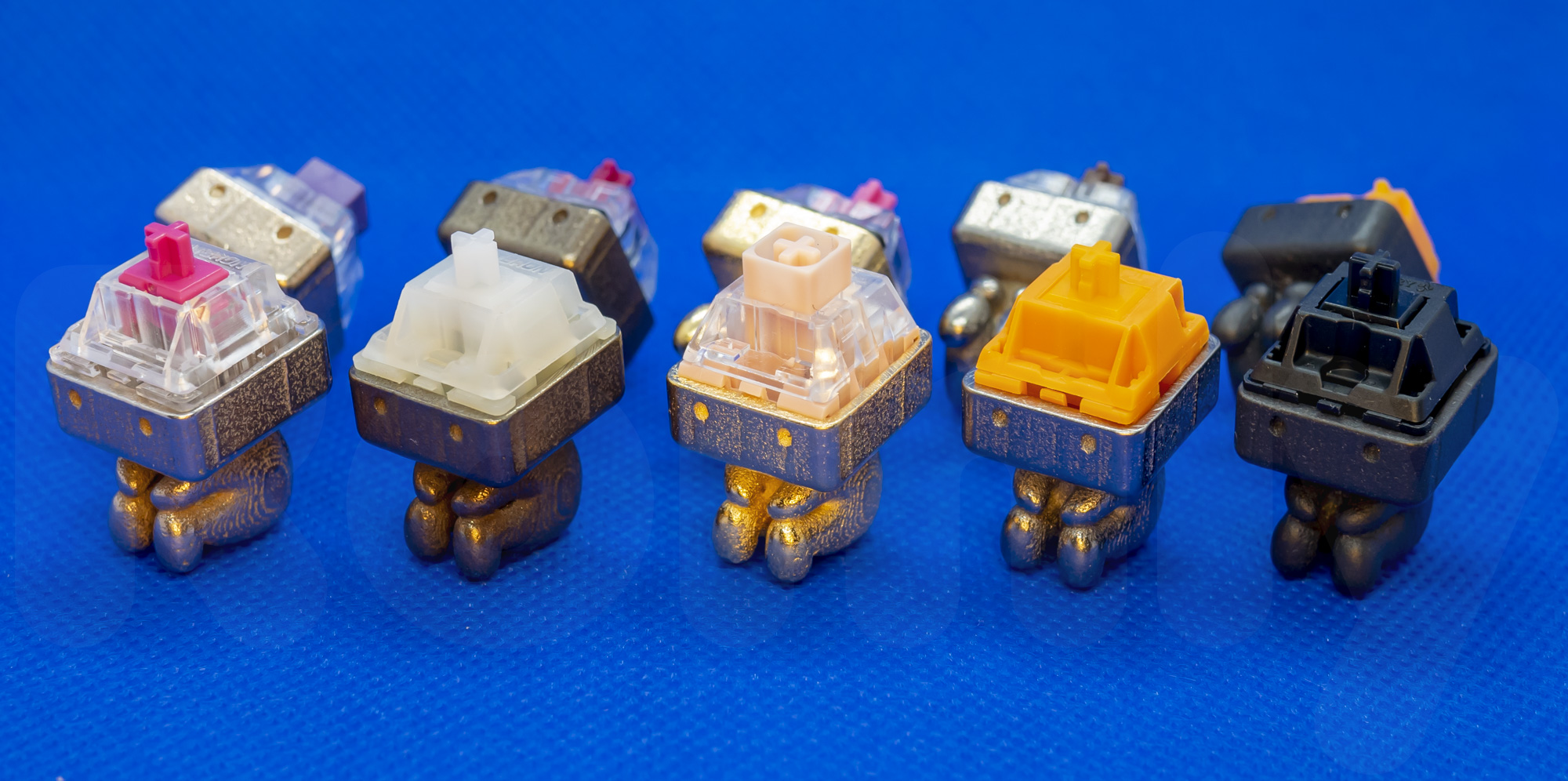 Chogokin Keycappies come in six materials. All of them are "steel", but they have different colors. This time I gathered five of them. In the photo, they are lining up from the left as order as listed below. At Shapeways, you can choose one more material "Matte Black Steel" in addition to the list.
Polished Bronzed-Silver Steel
Polished Bronze Steel
Polished Gold Steel
Polished Nickel Steel
Polished and Bronzed Black
I think the prices are very moderate against its looks, so please check out Shapeways shop. It's like a half compare to "God of Keycappie"! (aside from shipping cost, I know I know…) How about order them for you and for friends, partners in one time!?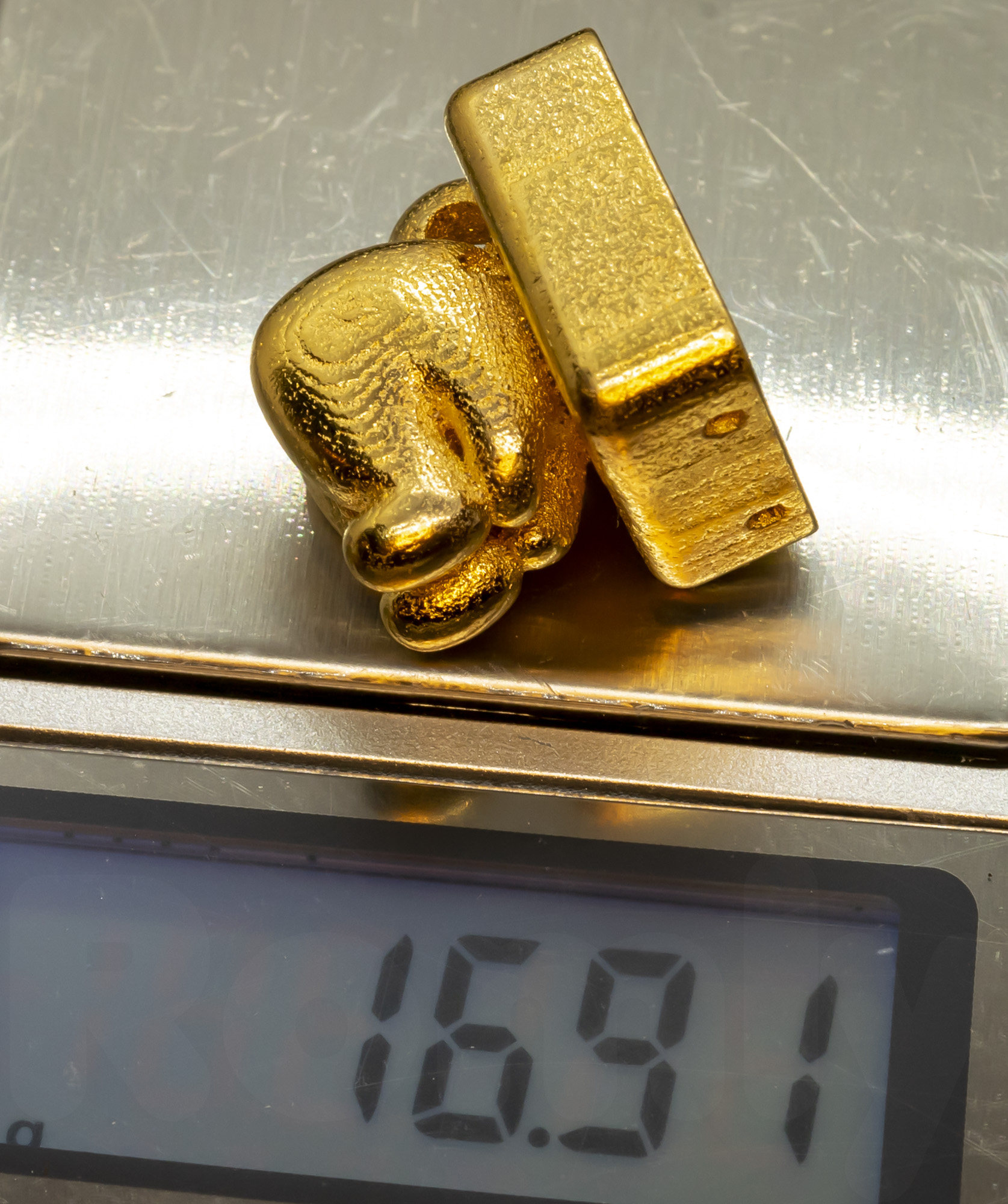 The weight is about 17 grams because of the steel. Twice heavier than 500 yen coin easily. You can feel the massive existence of Chogokin. Common Keycappies are lighter than only 2 grams.
Polished Bronzed-Silver Steel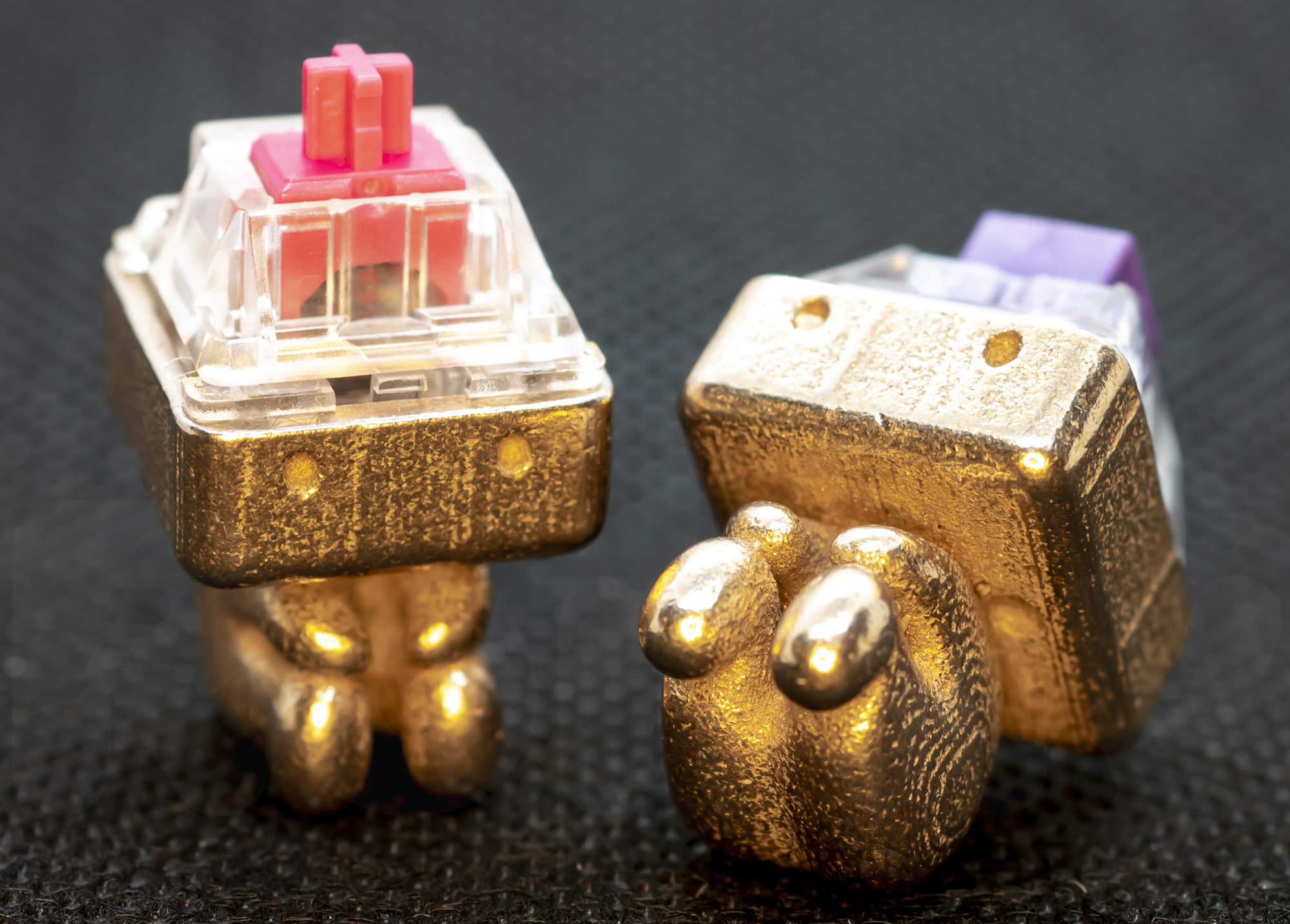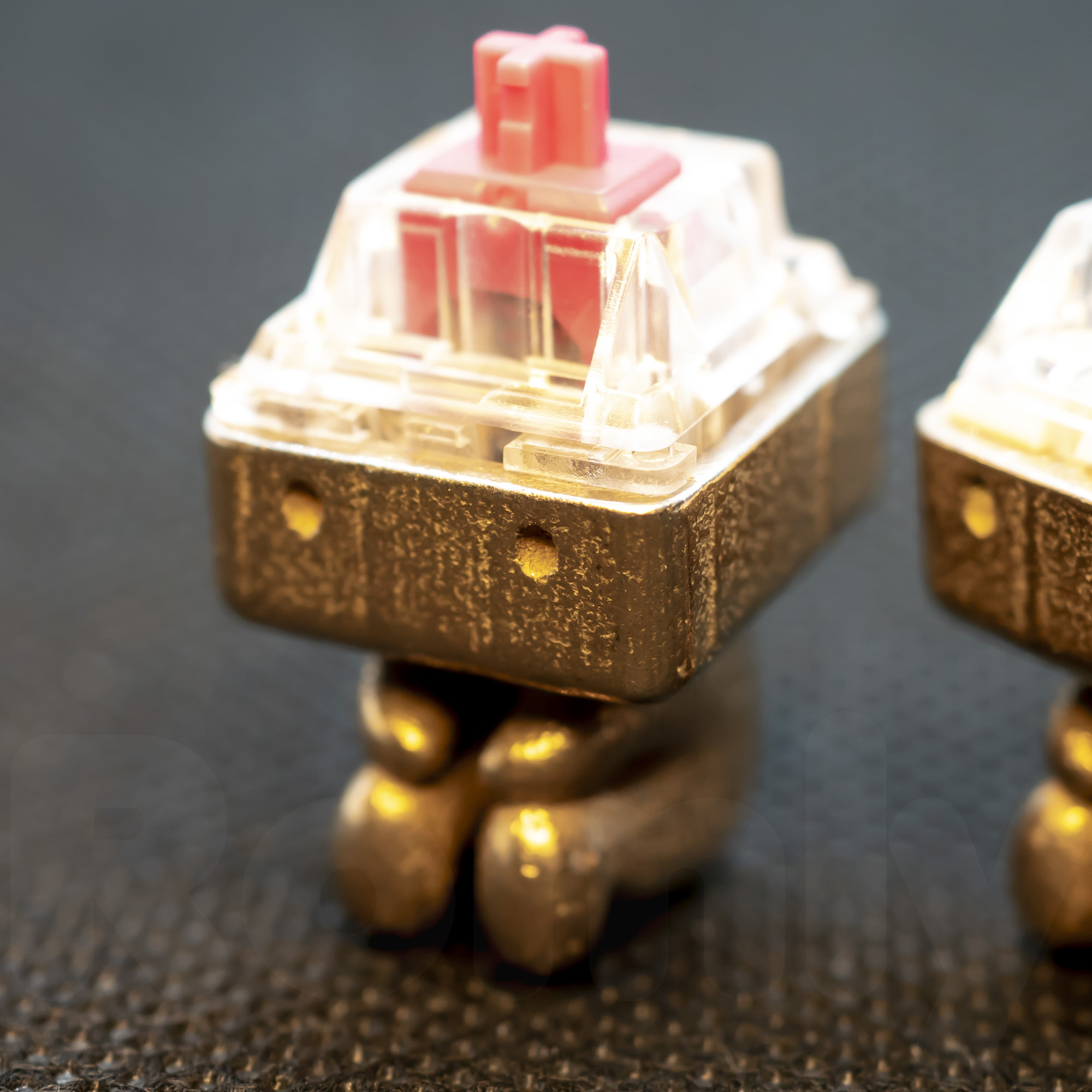 The photo looks gold, but the real one is more settled silver in a bit yellowish. Not too silver, not too gold, natural beautiful steel color I guess. Looks like 3D printing steel material has layer lines on the side of the bodies. But even the lines has cool solid texture, is a charm of steel I think.😊
Polished Bronze Steel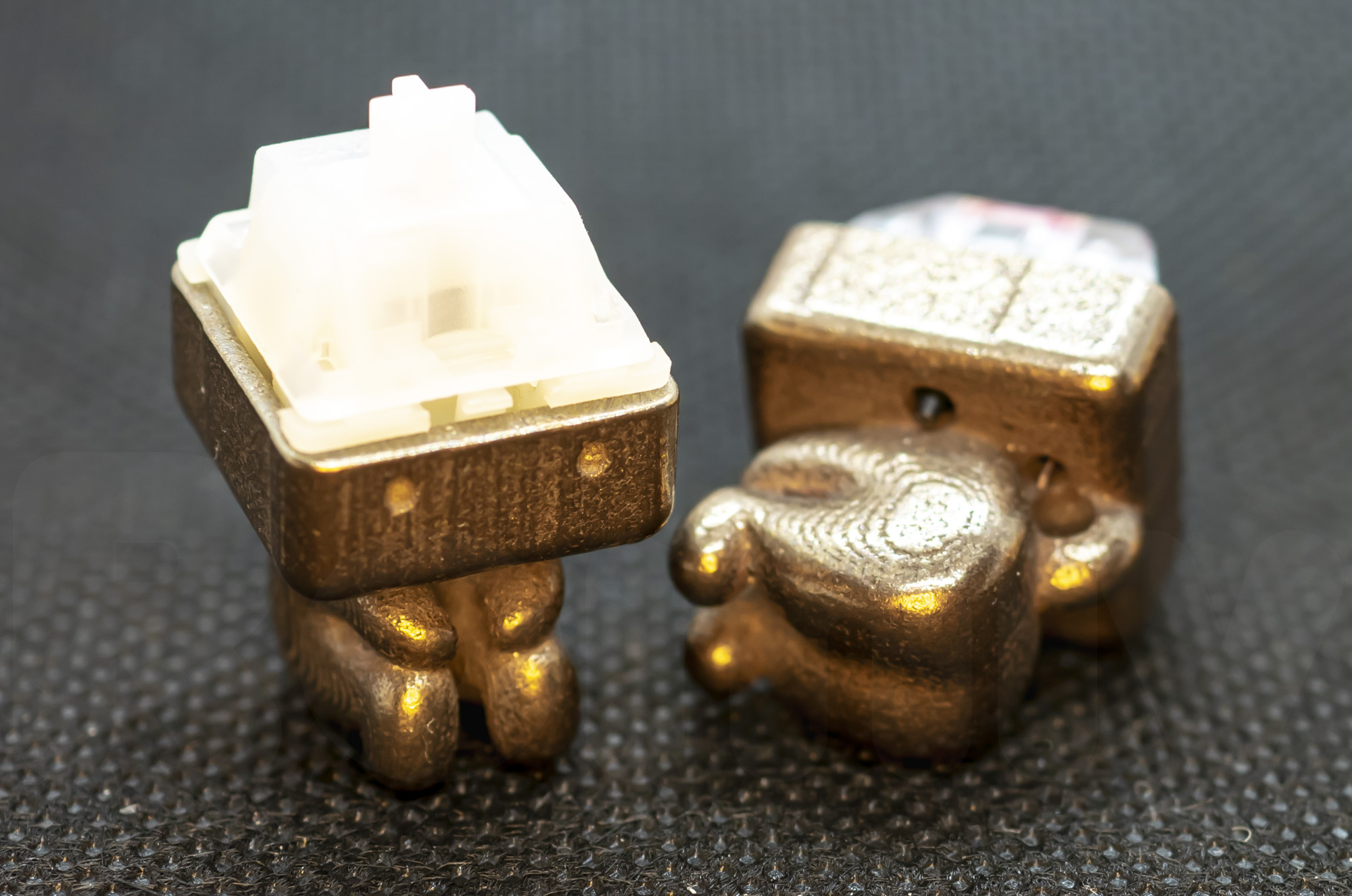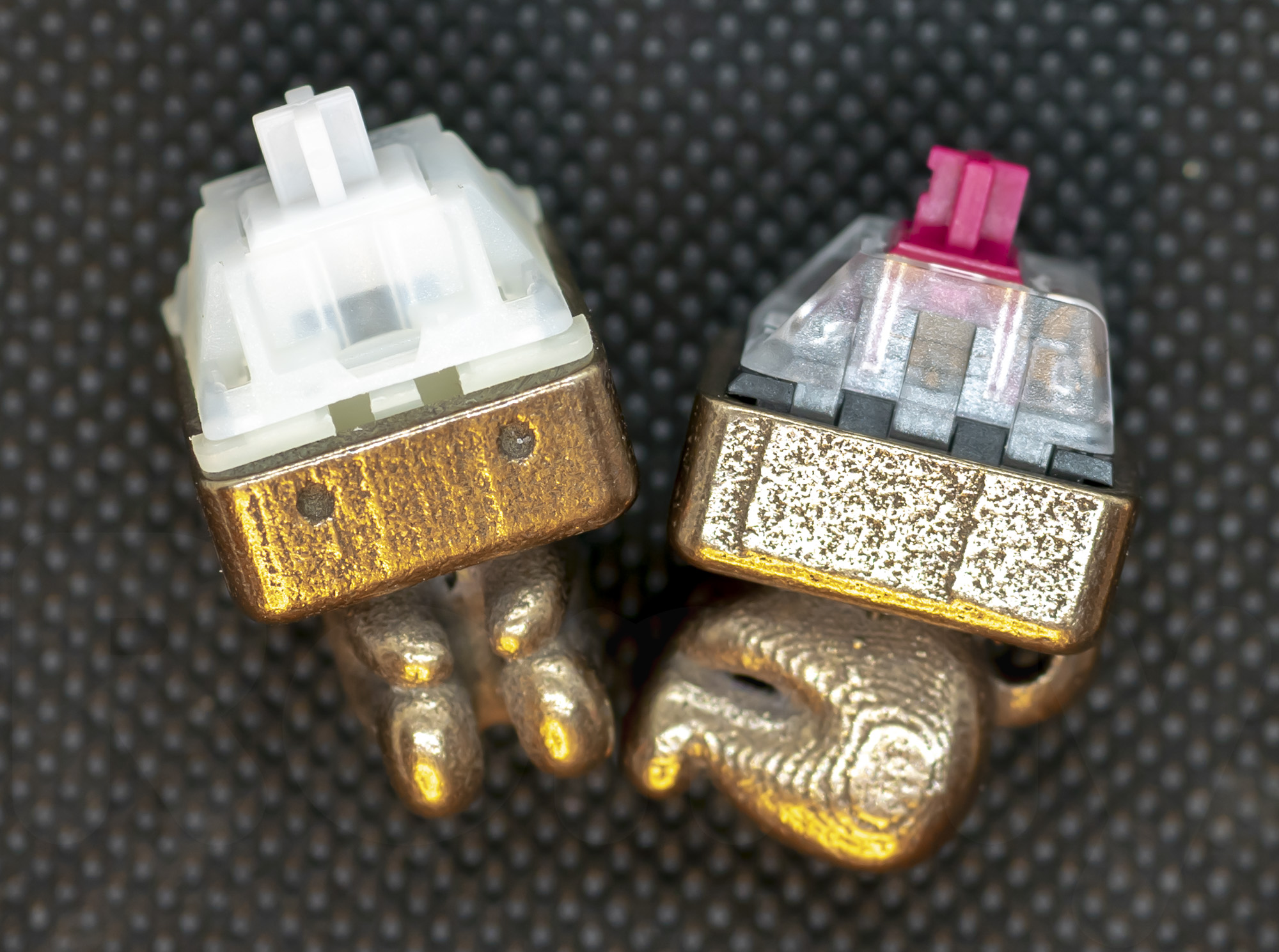 Sorry, also this photo is barely telling it's complicated color. The real color is similar to the "Bronze" which is imagine in our mind. More chic compare to the photo above. More darker than 10 yen coin, bitter color, like a Chinese ancent tea utensils. Match with roasted green tea, I guess.
Polished Gold Steel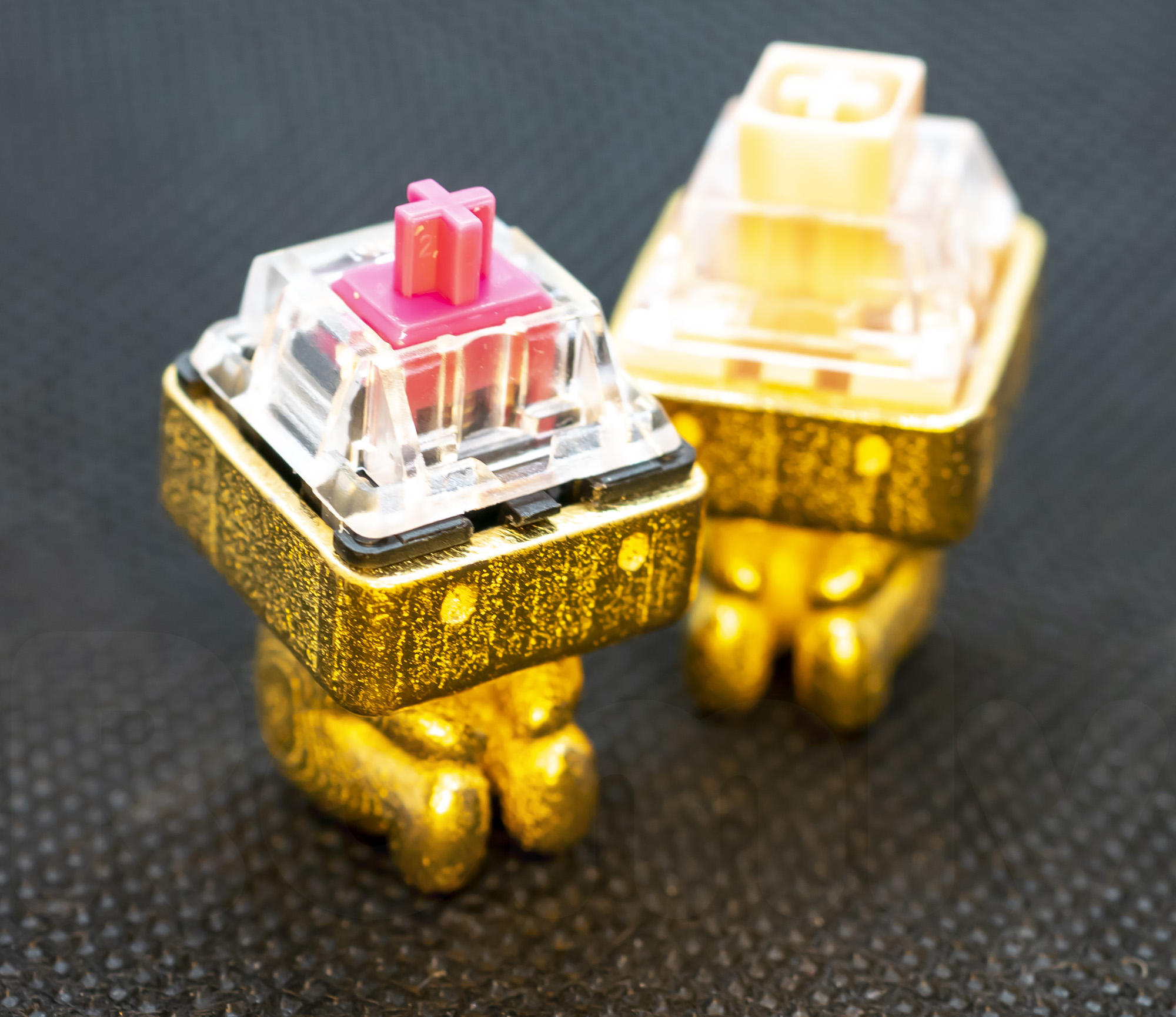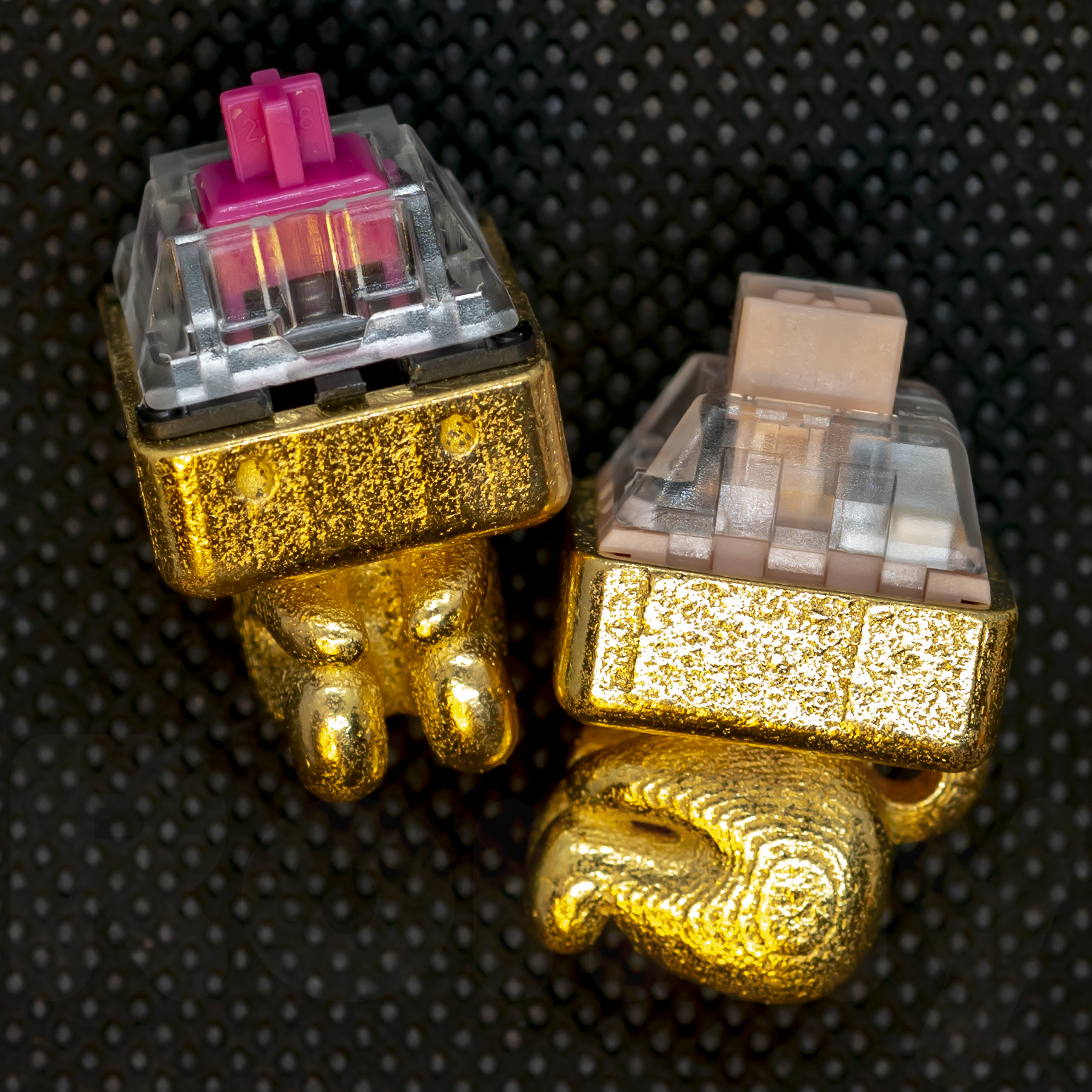 This one is a gold. So golden. Cursed Aztec gold. Unlike jewelries' smooth gold, has steel texture on it. Looks like golden statue found from the ancient ruins. It must be the relic from the forgotten civilization which was deifying Keycappie gods.
This is same material of golden statue of Tamamochiko which I made before. Please check the post. You can see how it's Aztec gold.
Polished Nickel Steel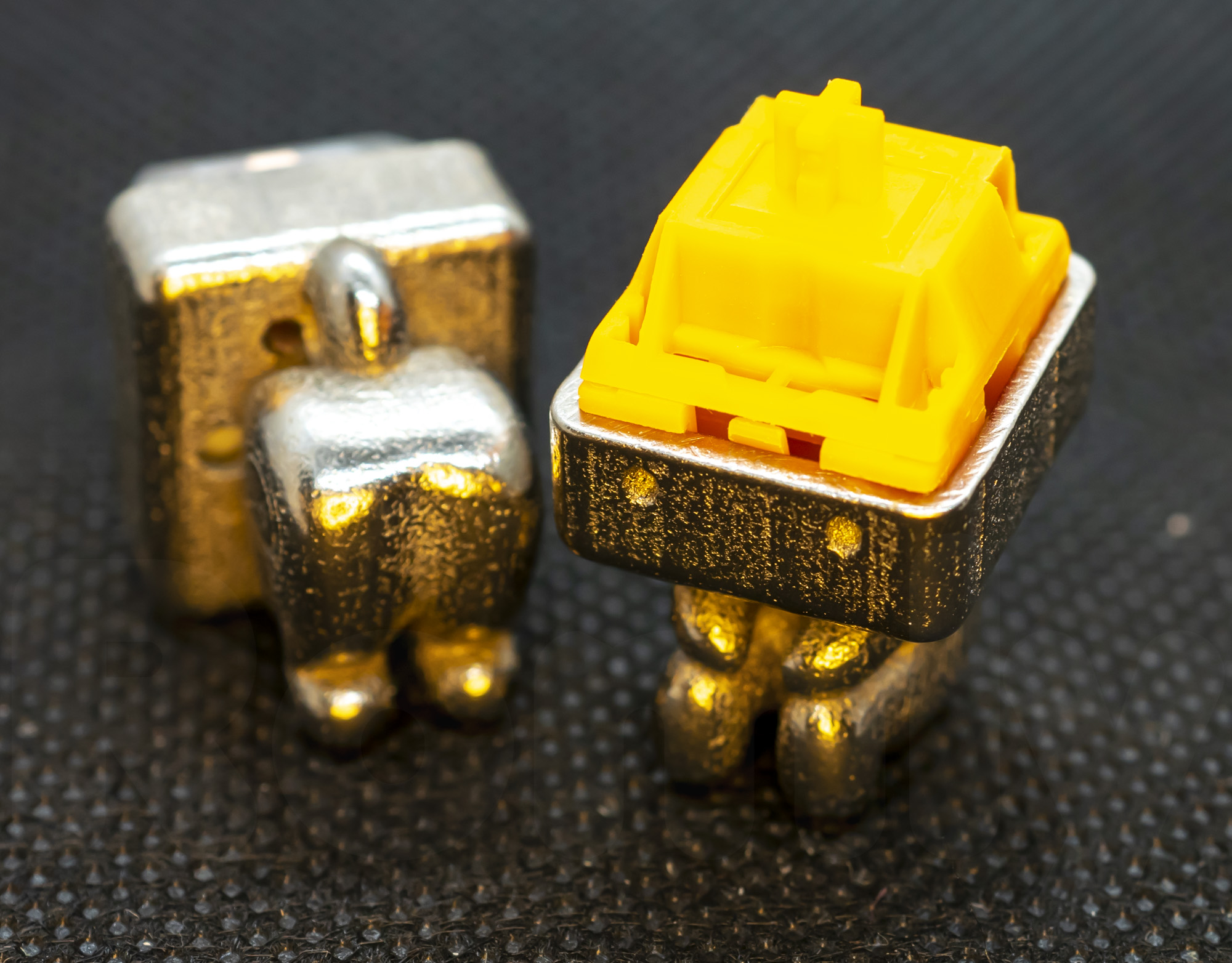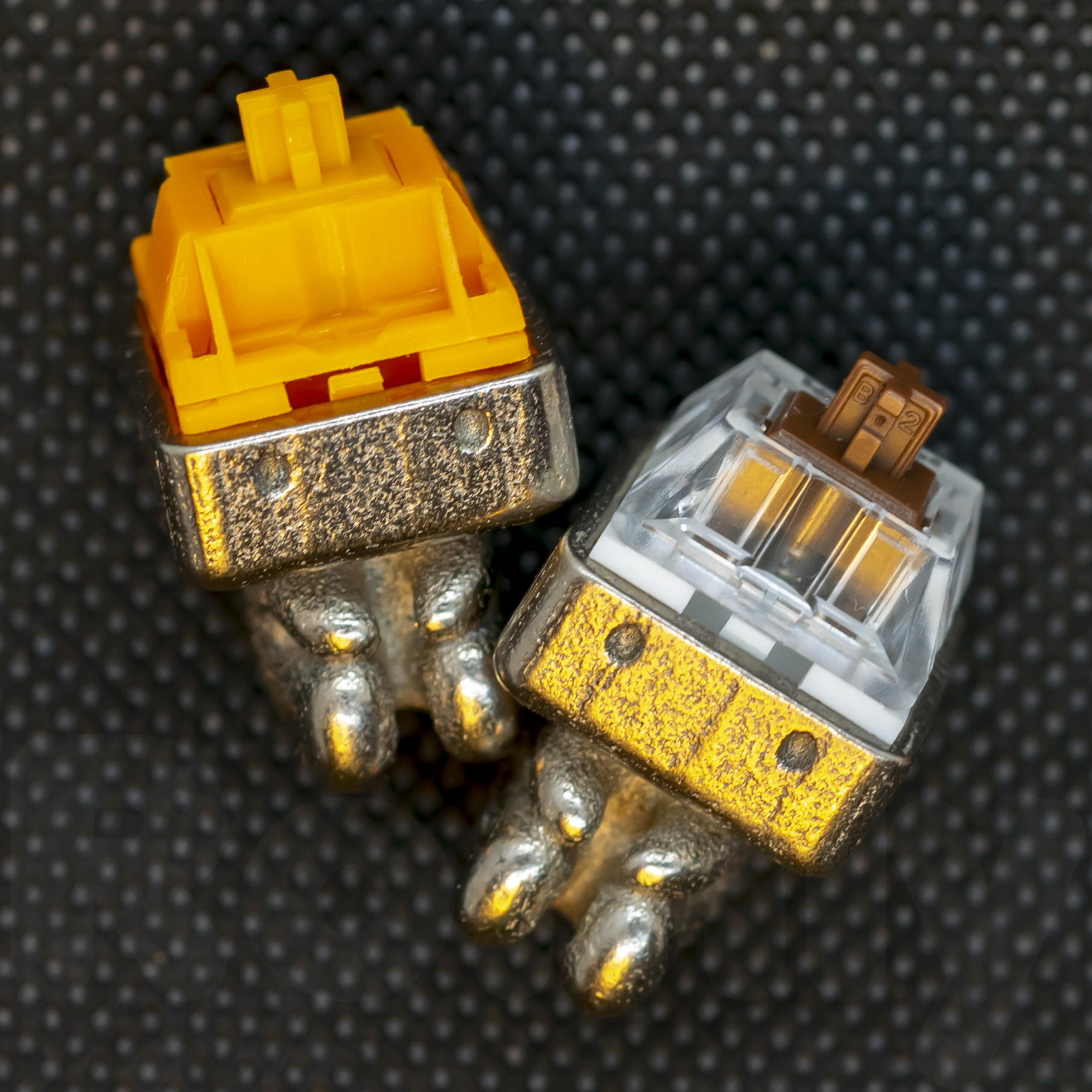 This one is "Nickel", lustrous silver as the name. Same as before, hard to tell it's color in photos, but the one with TTC orange switch in second photo has very similar color to real ones. The color is like an worn-out Japanese sword, very grace, Japanese Miyabi Keycappie.
Polished and Bronzed Black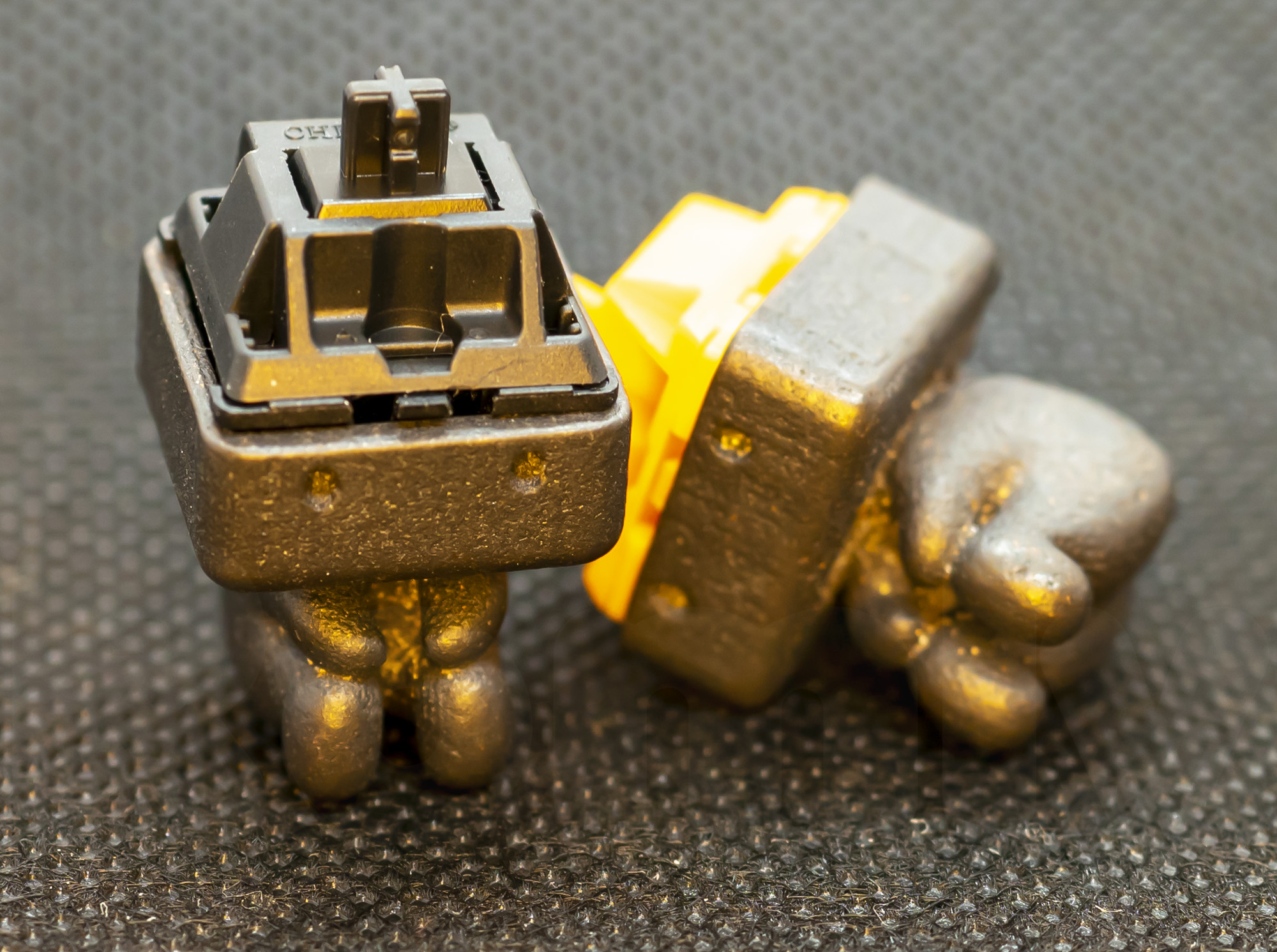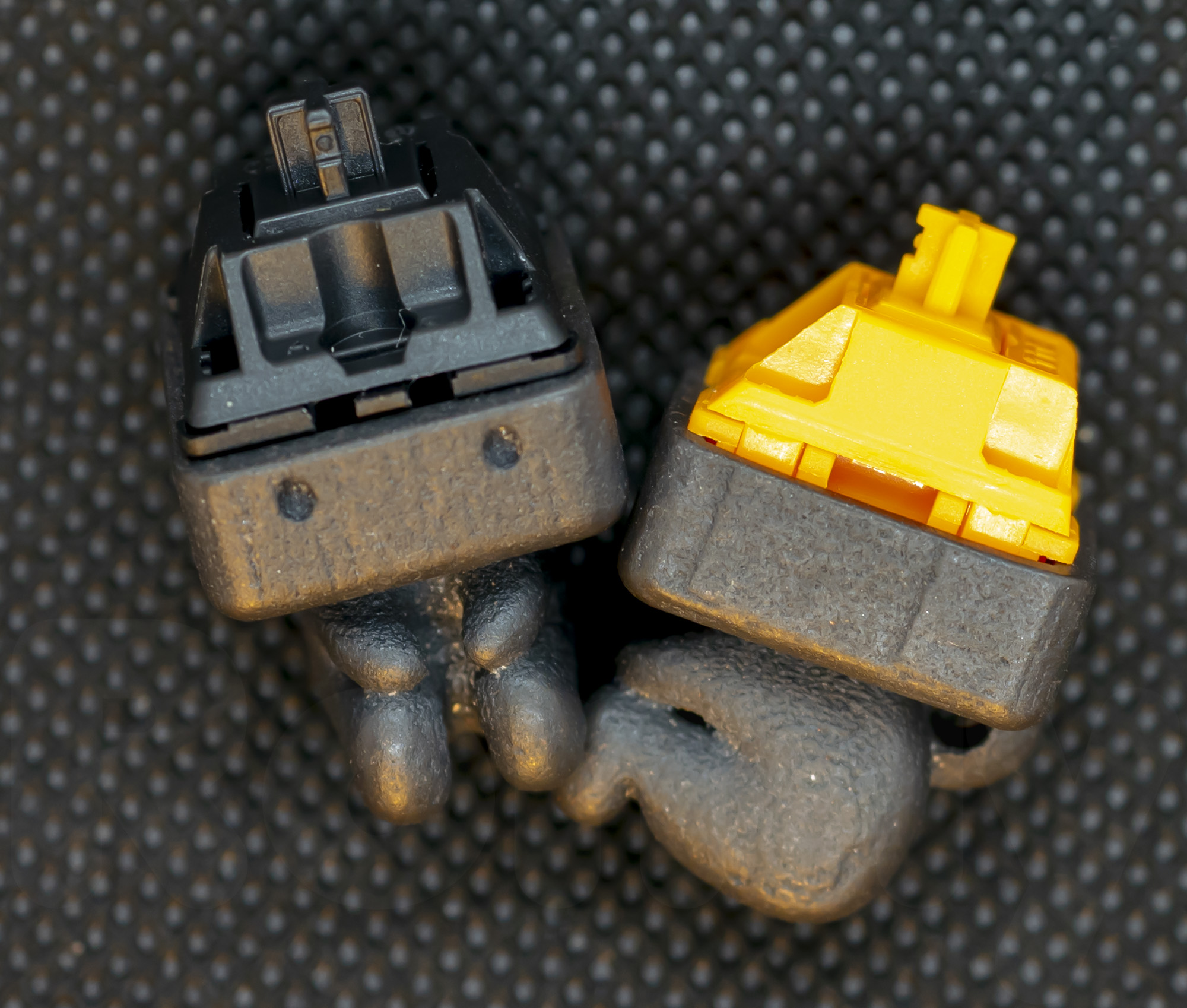 Very different from the others, this one is pitch black. Looks like MJF black Keycappie, but the coldness and massive weight makes us realizing it's made by actual steel. Don't you think black steel is so cool? Just like a forged from magma, black chic Keycappie it is.
The printing layer lines become discreet in this black, it is matte smooth compared to the others. I guess this black Keycappie makes every color switches shining!
14k Rose Gold Plated Brass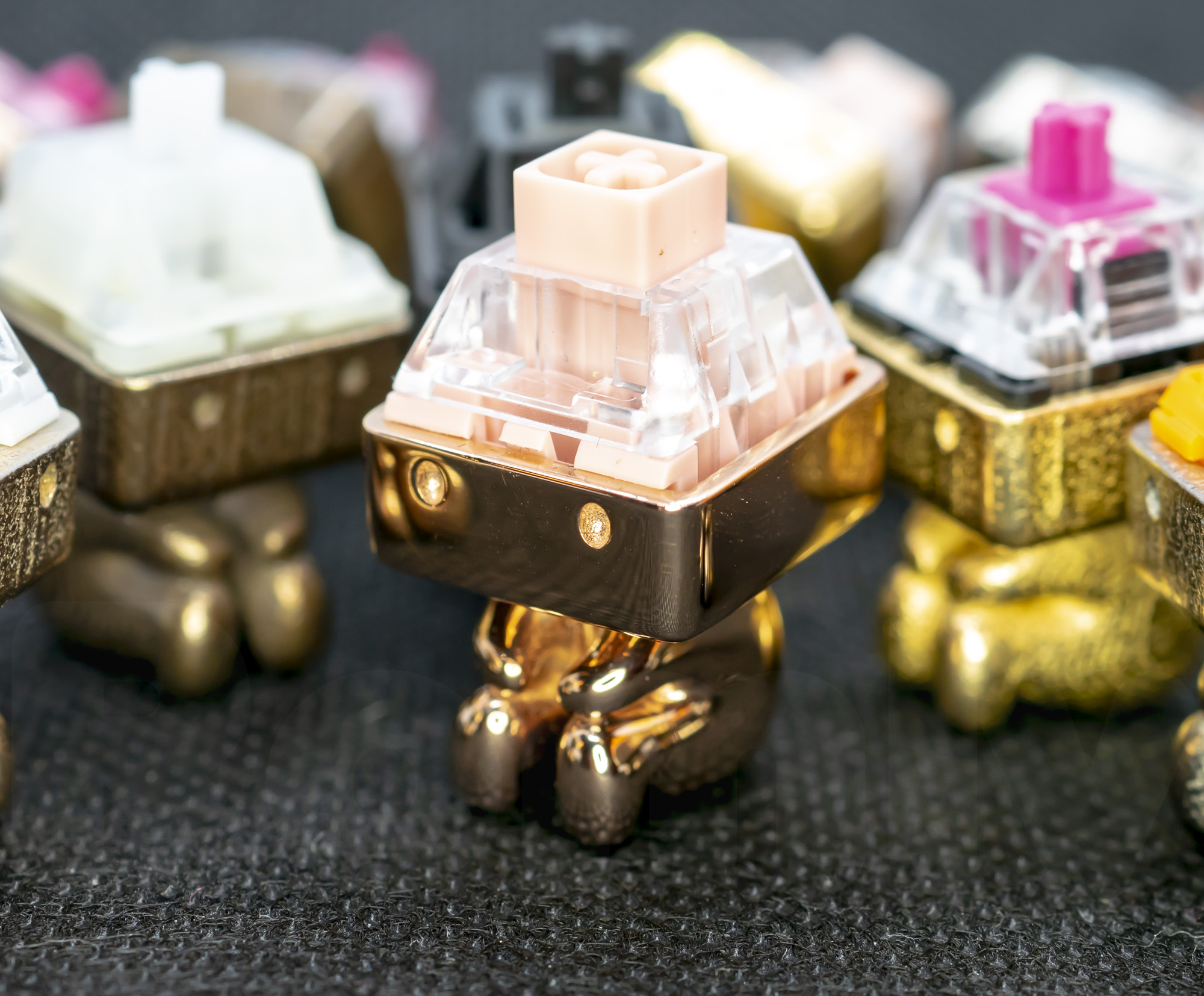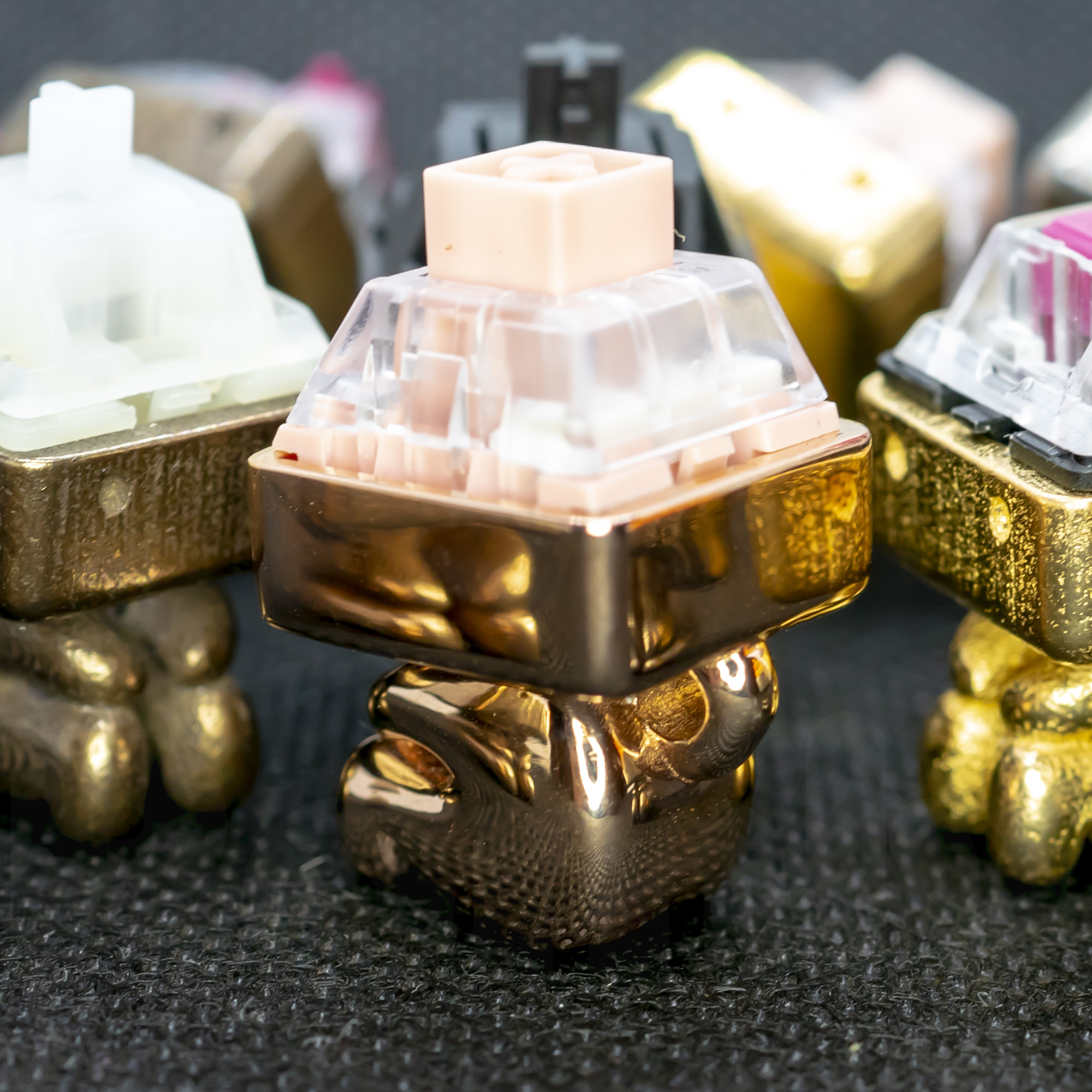 One more thing, I'm proud to introduce the real noble lady. Behold, she is the Rose Gold💎, true lady. Look at the true beauty, 14k rose gold-plated Keycappie!
Smooth as silk, super glossy butt reflects everything around. Perfect for your neckline in formal dress. This is the overwhelming high-leveled luxury Keycappie. It's too graciously, I can't touch with bare hands. Needs white gloves which jewelry shop is using.
Unfortunately I couldn't match the size changeness through 3D printing. The switch housing is a bit loose. Need a glue to fix the switch.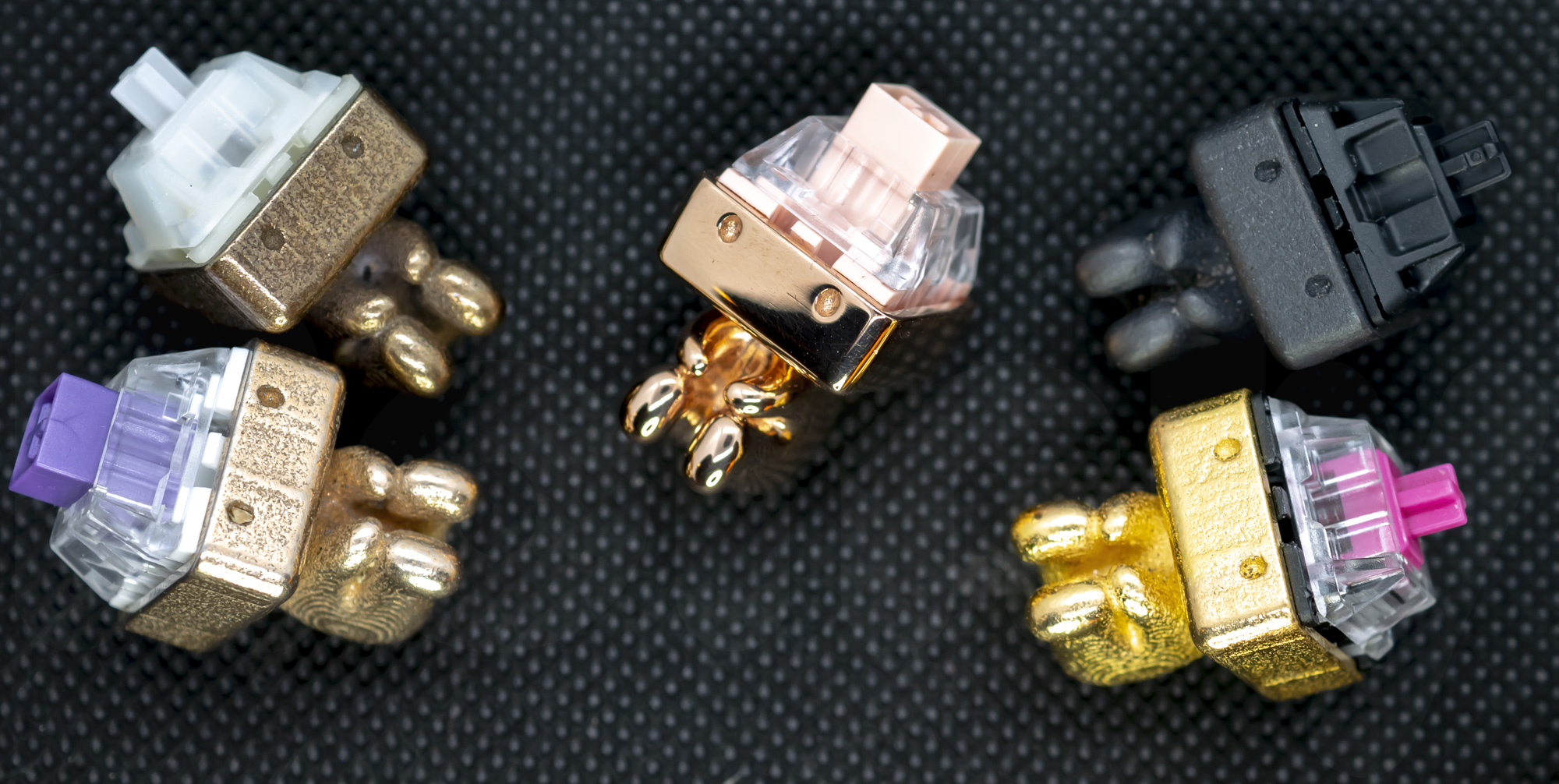 Lady Rosegold and Steel Ranges. Steel Rangers are deluxe and yet strong and tough. You can bring them anywhere you want. They keep cute in every environment.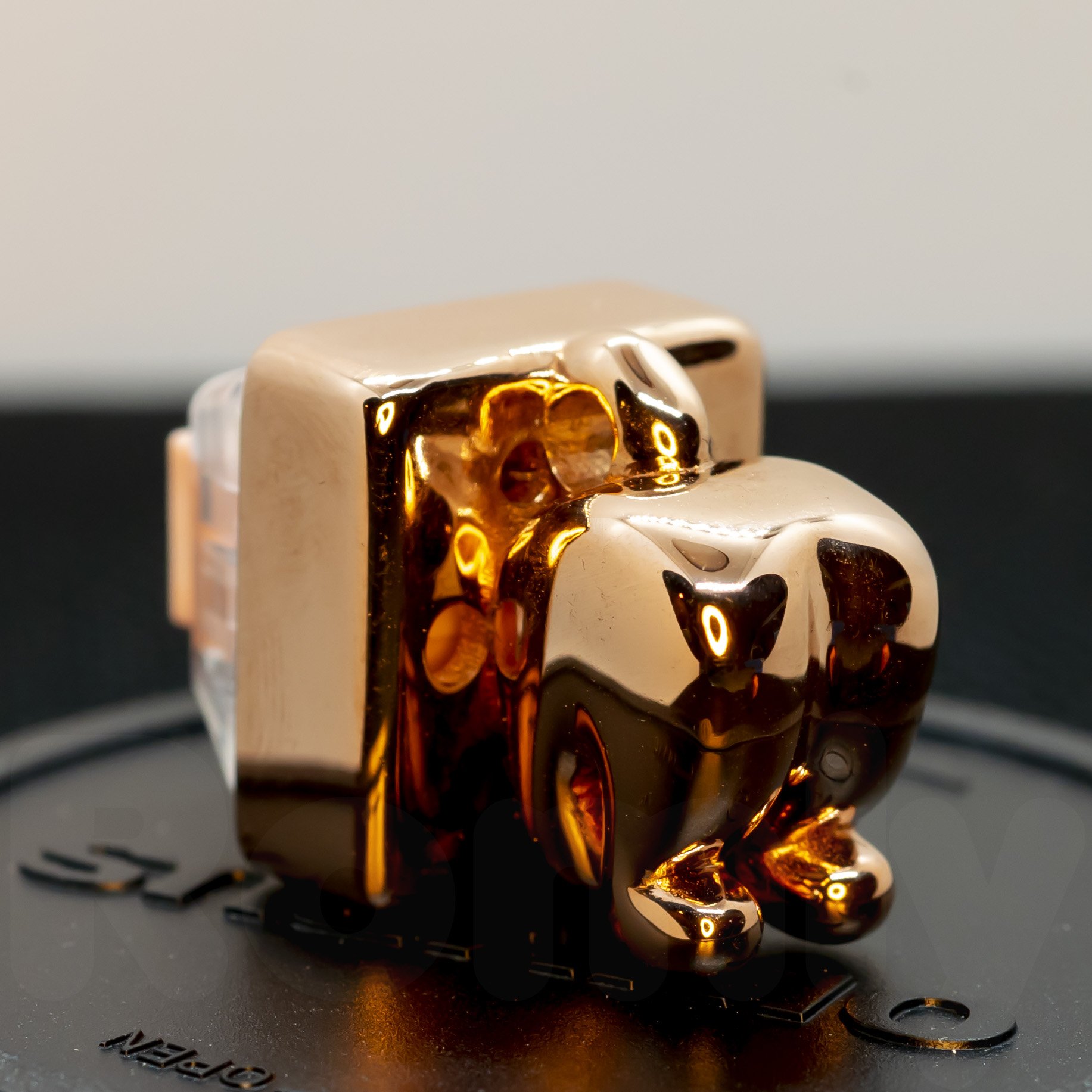 And how about go to formal places with this higher-grade Lady Rosegold. Parties, weddings, formal reunions. You'll be famous if people find shiny Keycappie on your chest!
So, these Chogokin Keycappie is available at Shapeways. Please check them out. And at Comiket, 30th of this month, I'll display and sale them. The stock is only ten so please come to my booth "東ナ-17a".
I'll display and sale rose-gold too, but it's a bit loose as I write above.
Thanks!