Mechanical Switch luxury catalog "Mechanical Switch Data Book 2" is complete!
---
Mechanical Switch Data Book 2 which is debut on last Comiket (C96) is already available at BOOTH. I think I didn't introduce it properly except my twitter so let me promote the book for you again!
What is Mechanical Switch Data Book 2 !?
Mechanical switches are essential parts of DIY keyboards which is super-hot these years in Japan. If you are mech-key person like me, I bet you're also into the mechanical switches. Maybe you're seeking for ideal tactile switches. Maybe you're loving super-noisy clicky switches (It's me!). Or maybe you're exciting that how mechanical switches have so many varieties.
Well, this book is for you! Previous Mechanical Switch Data Book is the doujinshi (fun-book) of mechanical switches which focuses into them in both fun and technical way! And long-awaited the sequel, Mechanical Switch Data Book 2 is here!
This time I studied 31 switches starting with classic Cherry MX series. All switches are dissected with beautiful photos and force-curves I measured. You can enjoy beautiful hues of stem with super magnified photo, and the same time you can know its specifications visually.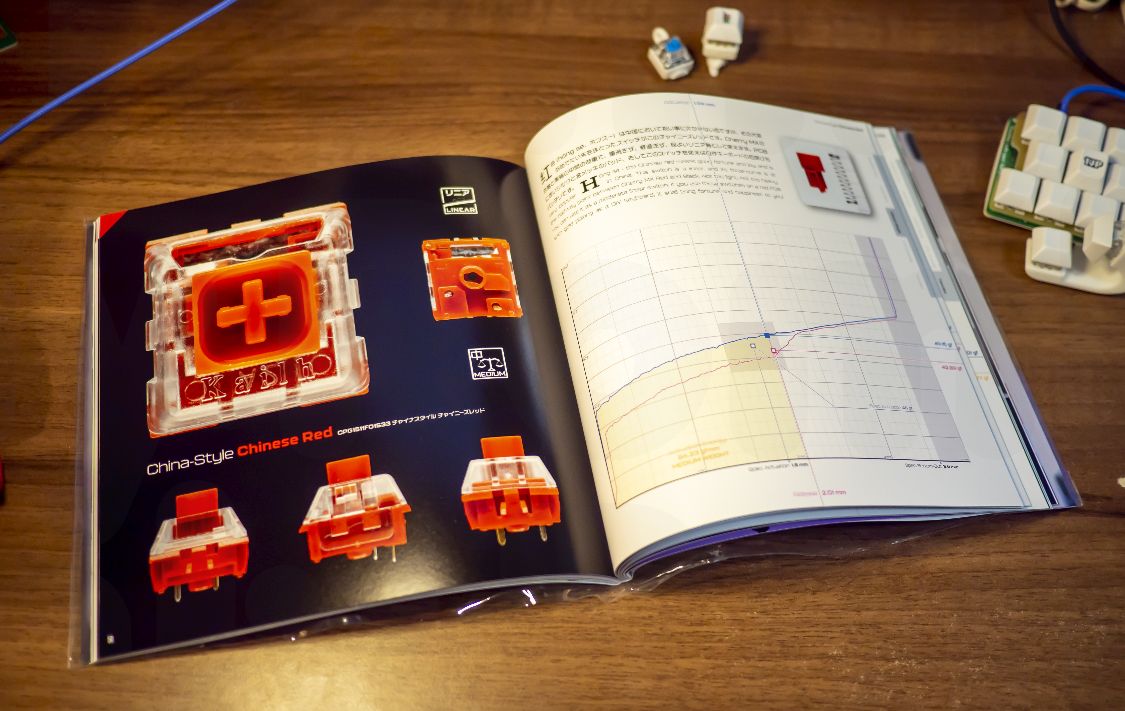 Mechanical switches in the book including rare ones
Mechanical Switch Data Book 2 introduces 31 mechanical switches below. Classic Cherry MX series including rare monotone switches. Kailh BOX series and Novelias. Brand new China-Style switches and TTC Orange covered by lively orange. Super rare Hirose Orange and some group-buying switches such as Linjär, FEI. And don't forget next-generation switch NovelKeys Cream!
Cherry MX Series

Cherry MX Red
Cherry MX Black
Cherry MX Brown
Cherry MX Blue
Cherry MX Green
Cherry MX Silent Red
Cherry MX Silent Black
Cherry MX Speed Silver
Cherry MX Clear
Cherry MX White
Cherry MX Grey Linear
Cherry MX Grey Tactile
Hirose Orange

Kailh BOX Series

Kailh BOX Red
Kailh BOX Black
Kailh BOX Brown
Kailh BOX White
NovelKeys x Kailh BOX Pink
NovelKeys x Kailh BOX Royal
Novelias

China-Style Series

China-Style Chinese Red
China-Style Noble Yellow
China-Style Glazed Green
China-Style Ancient Grey

TTC Orange

TTC Orange Linear
TTC Orange Tactile
TTC Orange Clicky

Linjär
Chouyu FEI Switch
NovelKeys x Gateron Glow
NovelKeys Cream
Super huge/beautiful switch photos!
The star of this book is of course cute mechanical switches. So I packaged the beautiful hues into a lot of super high-resolution photos!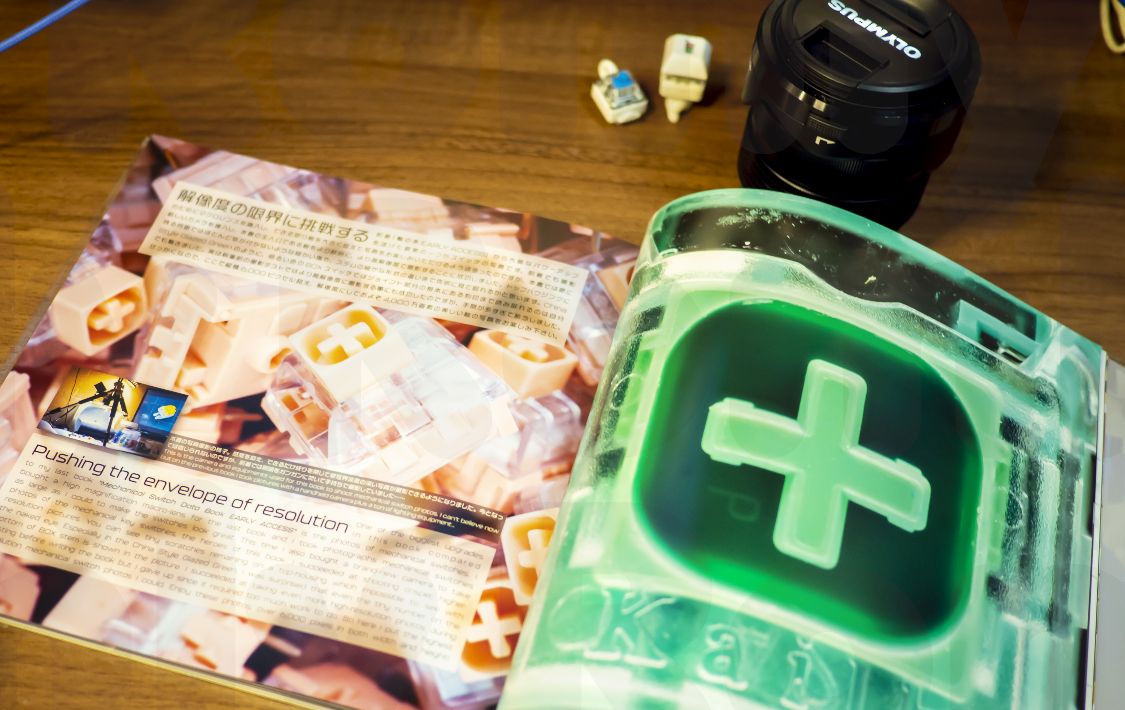 I bought high-magnified macro-lens for the last book to take a switches as large as I can. This time also bought a brand new camera body itself for only making the book! I adopt a tethered shooting, makes enabled to take a photos which has more high resolution, more crisp image!
Filled with readable force-curves!
Switch photos are star of this book, then its force-curves are the "essentials" of this book. Crisp pressing-curve and release-curves, and also actuation-energy and catalog specifications are indicated in the force-curve chart in tidy.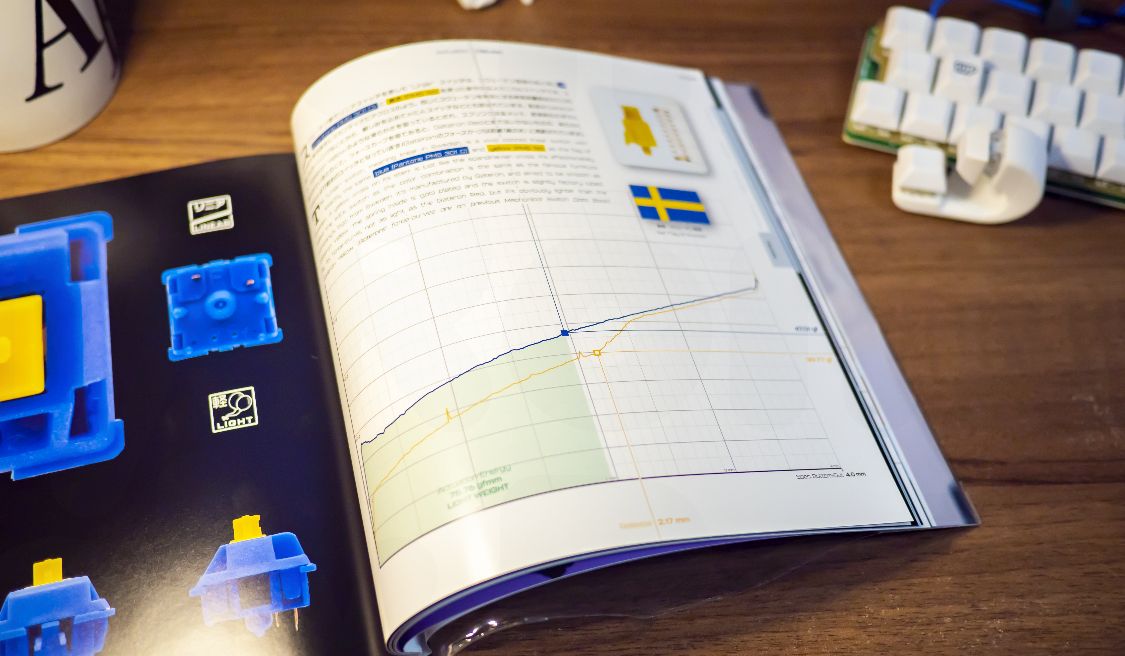 Compare to the previous book, it's simply comprehensible as the book got enlarged. And actuation-energy areas are filled with colors differed by its weight so you can understand the switches weight visually. Even you can compare visually between catalog-specs and actual measured values because of catalog-specs also indicated in the chart.
By the way you can't know from the book but my own tool for reading measured values is also improved after writing of previous book. The force-curves are more precise to measurement! (The chart look is not very different though...)
Mysterious mechanical-switch arts!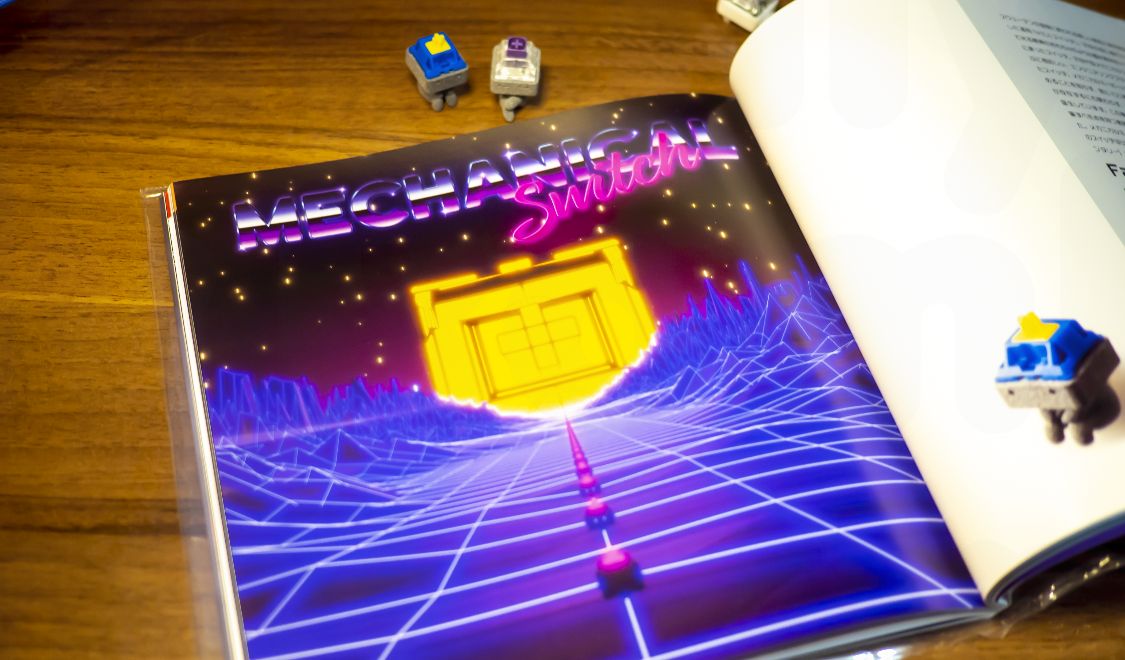 BTW, this photo I took and put in the book is a parody to the movie I love, utilize Gateron Glow feature of glow in a dark. Can you guess what the movie is?
(It was hard to shoot the light beautifully while glow-in-the-dark plastic are glowing...)
All texts are written in both Japanese and English!
I know the love of mechanical keyboard and its switches are worldwide, universal! I want who can't read Japanese to enjoy this book too. So I wrote all sentences in both Japanese and English!
Of course only me who can translate it and as you know right now, my English is poor. But same as the English version of previous book, two people who have great love of mech-key, kindly helped me! Brian, who is organizing #PDXKBC, and quality_enforcement_dojo from Instagram. This means the book has quite satisfying English for even a native English speaker!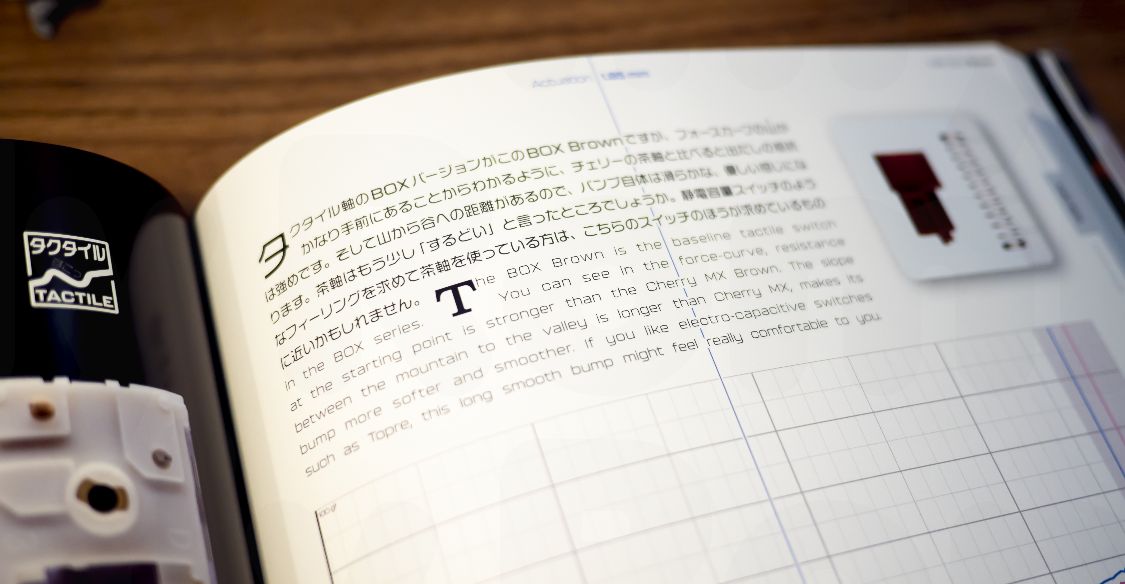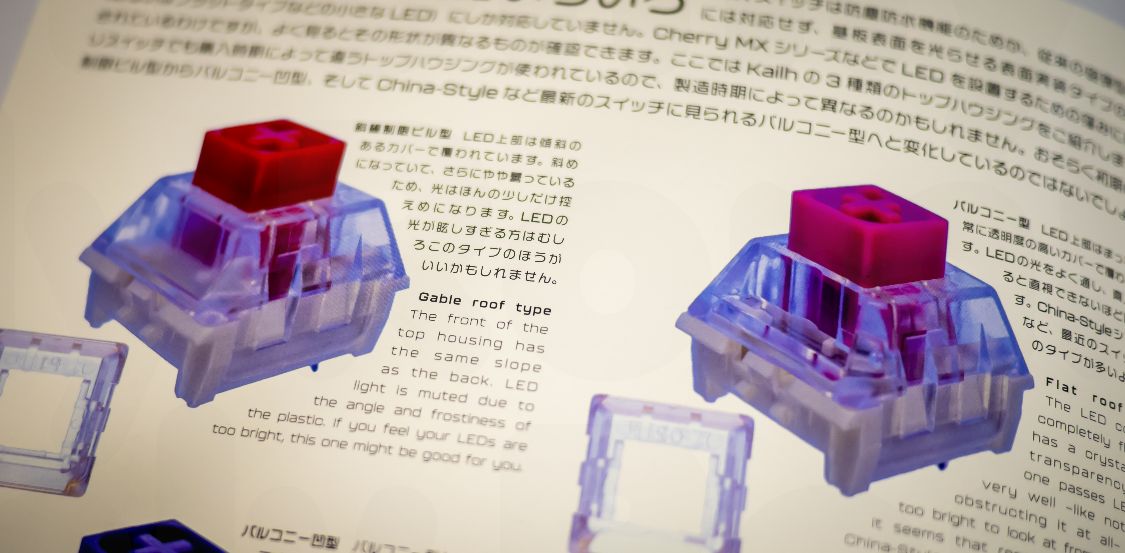 Did you know the previous book "Mechanical Switch Data Book" has English version too, yo!
Oh by the way, did you know previous book "軸の本 Mechanical Switch Data Book EARLY ACCESS" has English version?
It's available on Drop (formerly Massdrop), and not only a book, it comes with a special switch tester which has all switches introduced in the book. Actually it's not always available, you need "request" as it's Massdrop so please request if you interested! I think you don't need but you can choose Japanese version too.
Romly "Early Access" Mechanical Switch Book | Price & Reviews | Drop (formerly Massdrop)
https://drop.com/buy/romly-early-access-mechanical-switch-book
Moreover furthermore, it's available on the famous Kono Store! Known as "WhiteFox Keyboard" or next-generation keyboard "Keystone Analog Keyboard". Actually Input Club's Haata, kindly helped English proofreading.
Romly Mechanical Switch Data Book & 12-Switch Tester — Kono Store
https://kono.store/products/romly-mechanical-switch-data-book-english
Fully-fledged book jacket!
Let me back to introducing second book. Mechanical Switch Data Book 2 has a volume of over 100 pages all of them are full-color, and its book-spine thickness reaches over 7 mm! So I made fully-fledged book jacket to protect the book and to make the book looks special!
PP matt coated jacket has super magnified Cherry MX Blue photo on the front. And has author's recent state, promotion of other books and a raffle ticket which is completely useless! These are quite common in Japanese manga's book jacket, I wanted to parody them and make it fun😁🎉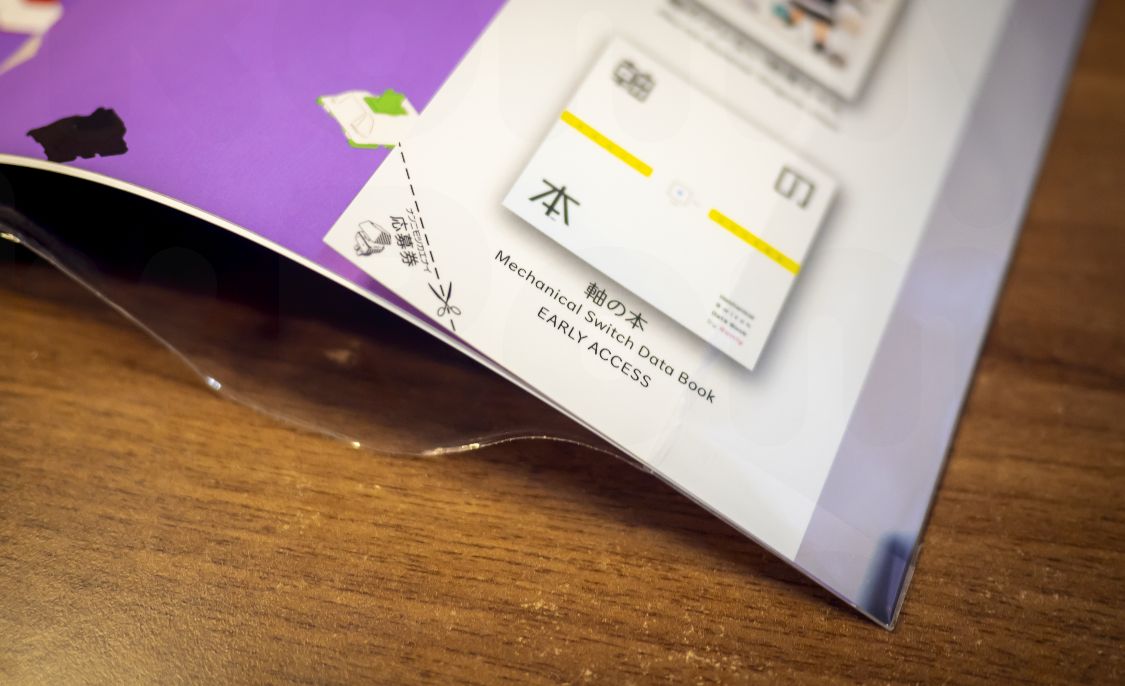 I always thought I don't want to cut a ticket on manga jacket, but I want to get a prize which requires the ticket for application. So I've cut tickets in tears but this ticket on "Mechanical Switch Data Book 2" is completely useless, so you don't have to cut at all!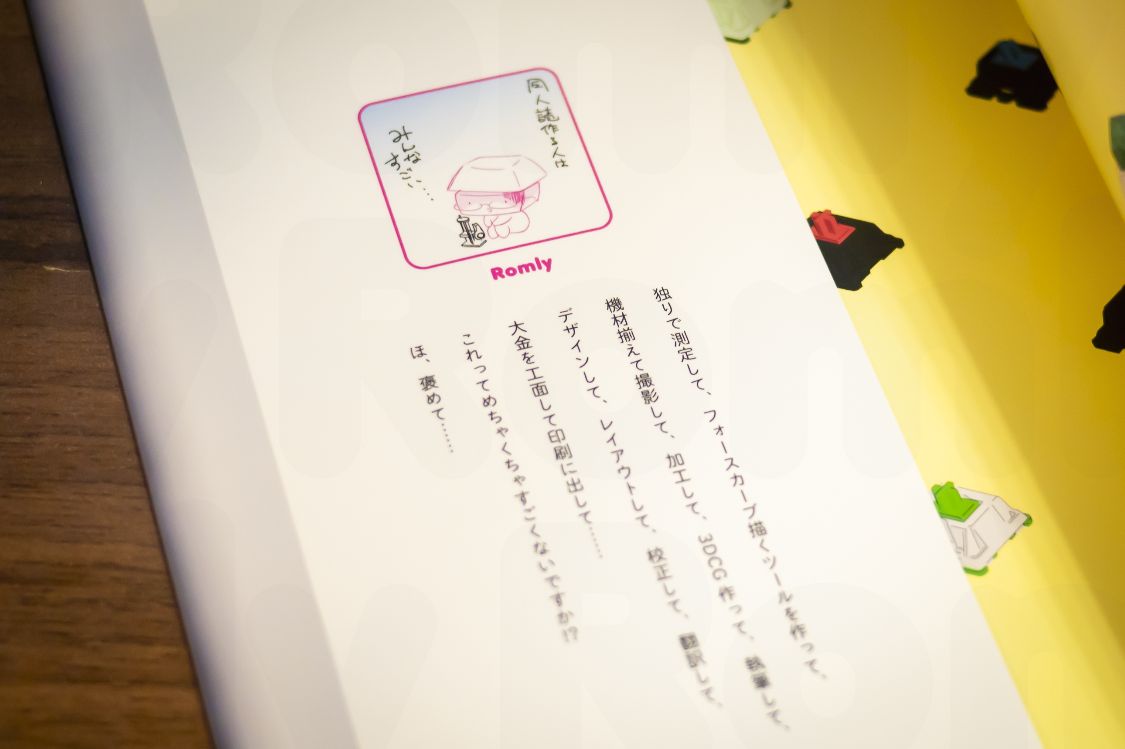 Manga jacket has always "author's recent state" on its flap. So I made my own and I wrote what I want to say freely. It the only part I've wrote in Japanese only. Please translate if you interested!
Want it now!?
Thank you so much‼️
"Mechanical Switch Data Book 2" is available at BOOTH. You can get Keycappie sticker if you purchased!😆 Unfortunately you need international forwarding service if you live outside of Japan, but tenso.com is officially supporting BOOTH.
Also I'm trying to make it available on Drop so please wish me luck. And if you have keyboard shop and interested to sell this book at your store, please contact me!
軸の本2 Mechanical Switch Data Book 2 - Romly Shop - BOOTH
https://romly.booth.pm/items/1508722
If you live in Japan, I join some convention event time to time so you can not only purchase but also browse it and judge if it deserves you! And you don't need shipping of course! (You can meet Keycappies too👏)
My schedule to joining events so far is only the Design Festa 50 for certain. I applied Comic Market 97 which is the end of the year at Tokyo Big-Sight, but I don't know I could get my space yet.
I want to earn at least the printing cost (which is quite huge for individual) so... feel free to purchase!😅
Thanks!
---
この記事はここで終わりです。
読んでいただきありがとうございました。
良かったらシェアしてね!
That's all for this article. Thank you for your reading.
Please share this if you like it!